LG 55EF5F-P

55" FHD Flexible Curved Open Frame OLED with Perfect Black & built-in SoC (Portrait Only)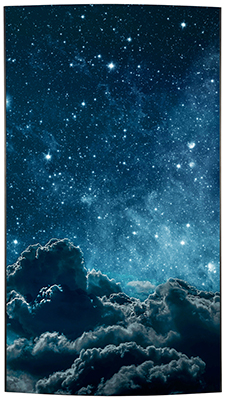 55" OLED, 1920x1080 (FHD), 400 Nit, 1080p, HDMI, Display Port, OPS, USB, Black, 3-Year Warranty
Click here to jump to more pricing!
Overview:
Artistic Space beyond Display LG OLED Signage
Blending in with the space while captivating everyone's mind, LG OLED signage offers unprecedentedly flexible design. Beyond its industry-leading features, LG OLED signage delivers unsurpassed advertising effectiveness, reimagnining space as a prestigeenhancing landmark with perfect colors and innovative forms.
Size: 55"
Brightness(Typ.): 400 cd/m² (Average Picture Level 25%)
Depth: 12.4 mm (Head Only)
Curvature: ~1,000R(Concave/convex)
Interface: HDMI, DP, USB(2), Audio, RS232C, RJ45, IR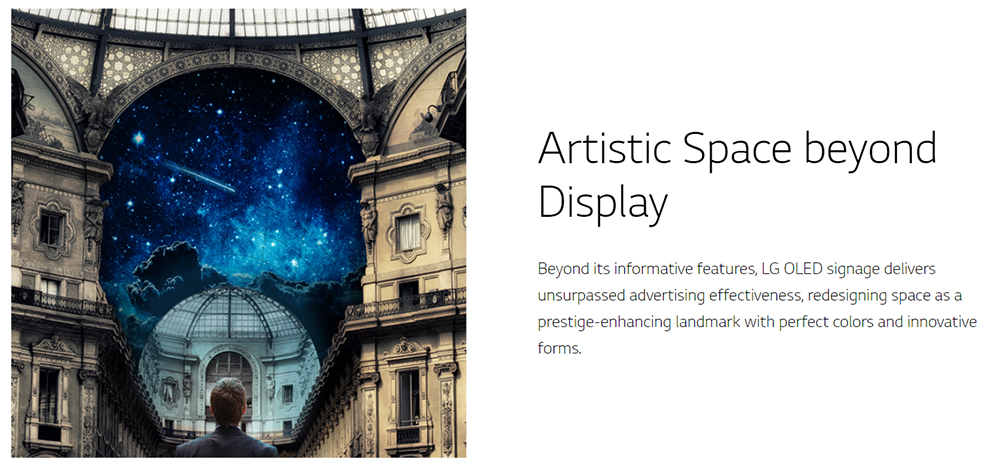 Features:
Design Flexibility
Variety of Curvature for Landmarks
The 55EF5F series supports various concave and convex curvature in both portrait and landscape orientations. You can differentiate your space in a variety of ways with beautifully curved displays to keep passengers captivated and immersed.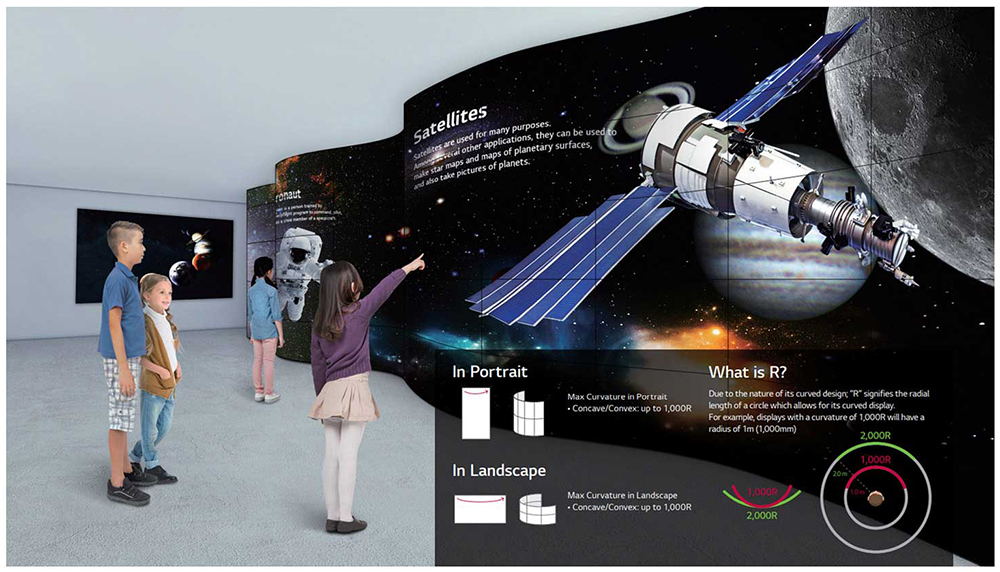 On-site Customization
The 55EF5F series enables a completely new approach for innovative and flexible designs. Its optional "Curvature Calibrator(CC)1)" supports the coordination of displays with various convex and concave curvature, depending on the requirements.

Unrivaled Picture Quality
Perfect Black
Equipped with over 8 million self-lighting pixels operating individually, LG OLED Signage reproduces absolute blacks with no light bleed and offers infinite contrast.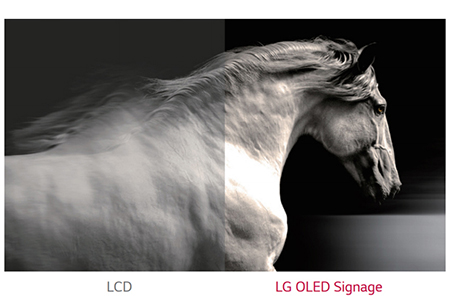 Perfect Color
LG OLED Signage provides richness in all colors, bringing colors to life with superb accuracy and vividness.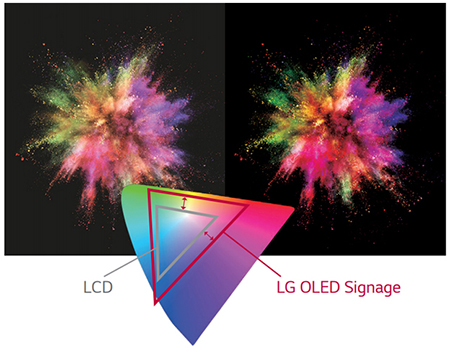 Perfect Viewing Screen
LG OLED Signage delivers its awe-inspiring picture quality and brightness even from wide viewing angles.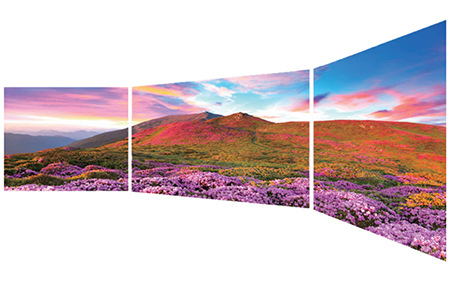 Space-fitting Design
Perfect Design
LG OLED technology doesn't require a backlight unit nor a liquid crystal layer, so it offers a flexible design with unbelievably lightweight and slim features.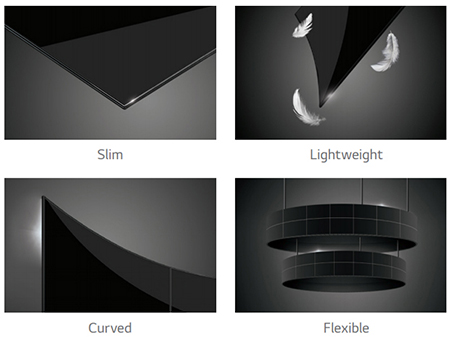 Expandable Screen Size
The screen size can be as large as users want by tiling up displays horizontally and vertically. This provides viewers with an incredibly immersive visual experience.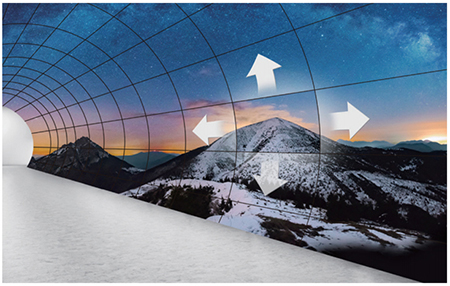 Excellent Performance
LAN Daisy Chain Management
The LAN daisy chain allows users to control and monitor displays, transmit data and even update firmware all at once, reducing management burden.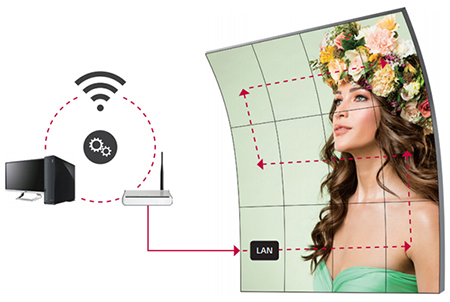 Synced Playback
Through its built-in high performance SoC, each display plays its video tile without lag for synchronized content playback.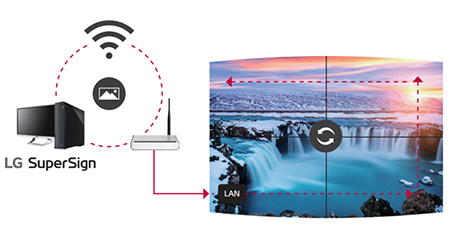 Specifications:
55EF5F-P (Portrait) Specifications
Panel
Screen Size
55"
Panel Technology
OLED
Aspect Ratio
16 : 9
Native Resolution
1,920 x 1,080 (FHD)
Brightness (Typ.)
400/150 cd/m2 (APL 25%/100%)
Brightness
150,000 : 1
Viewing Angle (H x V)
178 x 178
Life Time (Typ.)
30,000 Hrs
Operation Hours
18 Hrs / 7 Days (Moving Video Only)
Orientation
Landscape
Connectivity
Input
HDMI, DP, USB 2.0 (2)
Output
DP, Audio (Fixed/Off/Variable)
External Control
RS232C In/out, RJ45 In/out, IR In
Physical Specification
Bezel Color
Black
Bezel Width
0.6 / 0.6 / 6.7 / 6.7 mm (Flat, Off Bezel)
5.0 / 5.0 / 7.8 / 13.2 mm (Flat, On Bezel)
Model Dimensions (W x H x D)
Display Only 27.6" x 48" x 0.5" / 701.4 x 1,219.7 x 12.4 mm
Display & mounts for Signage Box 27.6" x 48" x 1.5" / 701.4 x 1,219.7 x 38.0 mm
Display with mounted Signage Box 27.6" x 48" x 3.5" / 701.4 x 1,219.7 x 89.6 mm
Signage Box Only 16.3" x 13.9" x 3.3" / 413 x 353 x 57.3 mm
Shipping Dimensions 53.1" x 33" x 9.8" / 1,350 x 837 x 250 mm
Weight
Landscape (w/ Signage Box) 24.9 lbs / 11.3 kg
Signage Box Only 7.7 lbs / 3.5 kg Shipping
Weight (Landscape) 41.7 lbs / 18.9 kg
Special Features
Special Features
Internal Memory (64GB), Temperature Sensor, USB Auto Playback, Local Contents Scheduling, Group Manager, Failover (USB/DP/HDMI/Internal Memory), Content Sync. (RS232C/Local Network), Video Tag(4), OSD/Content Rotation, Gapless Playback, Tile Mode, Setting Data Cloning, Firmware Update by Network, SNMP, ISM Mode, DPM, Wake on LAN, HDMI-CEC2), Crestron Connected®3), SI Server Setting
Environmental Conditions
Operating Temperature Range
32°F ~ 104°F / 0°C ~ 40°C
Operating Humidity Range
10 % to 80 %
Power
Power Supply
100-240V~, 50/60Hz
Power Type
Built-In Power
Power Consumption - Typ. / Max.
309 W / 318 W
Standard (Certification)
Safety
IEC 60950-1 / EN 60950-1 / UL 60950-1
EMC
FCC Class "A" / CE / KCC
ErP / Energy Star
Yes / No
Media Player Compatibility
OPS Type Compatible
No
External Media Player Attachable
Yes
Software Compatibility
Content Management Software
SuperSign CMS
Control and Monitoring Software
SuperSign Control+ / Control
Signage365Care
Yes
Accessory
Basic
Remote Controller (2 Batteries Included), Power Cord, QSG, IR Receiver, Regulation Book, Phone to RS232C Gender, RS232 Cable (4p-4p), FFC Cables (220mm x 4ea for Connection between Panel and Signage Box), DP Cable, LAN Cable, LC (VLC Cable)
Optional
Curvature Calibrator (ACC-CC-EF5E)
Warranty
Warranty
3-Year Limited Warranty (Parts and Labor)
Pricing Notes:
Pricing and product availability subject to change without notice.
LG Display Products
OLED Signage Display
LG 55EF5F 55" Curvable Open Frame Tiling OLED (Portrait Only)
55" OLED, 1920x1080 (FHD), 400 Nit, 1080p, HDMI, Display Port, OPS, USB, Black, 3-Year Warranty

#55EF5F-P
Our Price: $6,995.00
LG Warranties
3 Years Warranties
3 Years TTL Term Coverage with 24 Hour Quick Swap for 55'' Video Wall

#MS55N0S100V
Our Price: $453.00
3 Years TTL Term Coverage with 24 Hour Quick Swap & White-Glove for 55'' Video Wall

#MS55N0S1I0V
Our Price: $566.00
3 Years TTL Term Coverage with 48 Hour Quick Swap for 55'' Video Wall

#MS55N0S200V
Our Price: $428.00
3 Years TTL Term Coverage with 48 Hour Quick Swap & White-Glove for 55'' Video Wall

#MS55N0S2I0V
Our Price: $541.00
4 Years Warranties
4 Years TTL Term Coverage for 55'' Video Wall

#MS55E10000V
Our Price: $201.00
4 Years TTL Term Coverage with 24 Hour Quick Swap for 55'' Video Wall

#MS55E1S100V
Our Price: $805.00
4 Years TTL Term Coverage with 24 Hour Quick Swap & White-Glove for 55'' Video Wall

#MS55E1S1I0V
Our Price: $970.00
4 Years TTL Term Coverage with 48 Hour Quick Swap for 55'' Video Wall

#MS55E1S200V
Our Price: $754.00
4 Years TTL Term Coverage with 48 Hour Quick Swap & White-Glove for 55'' Video Wall

#MS55E1S2I0V
Our Price: $920.00
5 Years Warranties
5 Years TTL Term Coverage for 55'' Video Wall

#MS55E20000V
Our Price: $402.00
5 Years TTL Term Coverage with 24 Hour Quick Swap for 55'' Video Wall

#MS55E2S100V
Our Price: $1,107.00
5 Years TTL Term Coverage with 24 Hour Quick Swap & White-Glove for 55'' Video Wall

#MS55E2S1I0V
Our Price: $1,328.00
5 Years TTL Term Coverage with 48 Hour Quick Swap for 55'' Video Wall

#MS55E2S200V
Our Price: $1,056.00
5 Years TTL Term Coverage with 48 Hour Quick Swap & White-Glove for 55'' Video Wall

#MS55E2S2I0V
Our Price: $1,277.00