LG 75XE3C-B

75" Outdoor Commercial Signage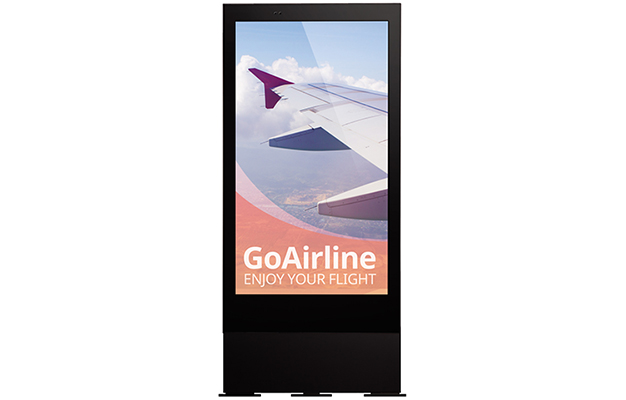 LG 75XE3C-B 75" XE3C Series Outdoor Commercial Display
75" Display, 3840 x 2160 (UHD), 3000 nit, HDMI(2), Display Port, DVI-D, Black, 3-Year Limited Warranty
#75XE3C-B
Get a Quote!
Click here to jump to more pricing!
Overview:
Outstanding Visiblity with High Reliability
The XE series provides the optimal solution to satisfy the high demand for accurate information. With superior picture quality and excellent durability, this outdoor display delivers eye-catching content to captivate customers even under direct sunlight or extreme changes in the environment.
Size: 75"
Brightness: 3,000 cd/m2 (Typ.)
Life Time: 50,000 hours
Operation Temperature: -22°F to 122°F / -30°C to 50°C
IP56 Design
Interface: HDMI, DP, DVI-D, RJ45, RS232C, SD Card, USB3.0, External speaker out
Features:
Outstanding Visibility
High Brightness
With a powerful brightness of 3,000 cd/m2 and wide viewing angles, the XE series delivers content clearly and catches the attention of viewers no matter where they are, making it the ultimate display for outdoor visibility.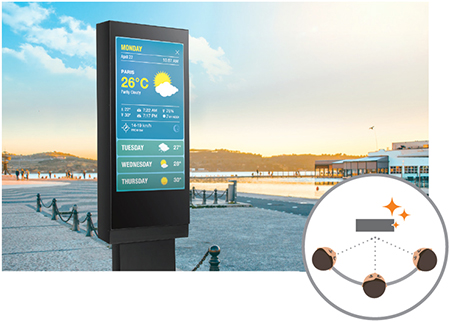 Visible with Polarized Sunglasses
QWP* technology enables clear visibility even when the viewer is wearing polarized sunglasses.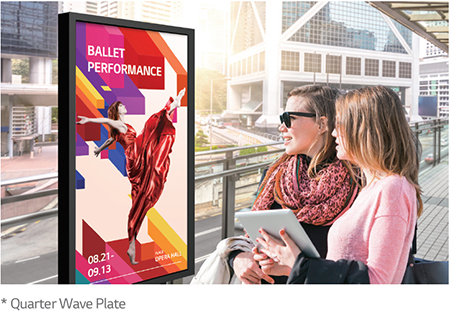 Smart Brightness Control
The screen brightness is automatically adjusted depending on the ambient light. The brightness is increased in daylight for better visibility, and it is decreased in darker environments for efficient power management.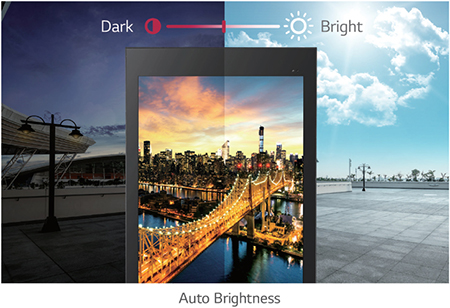 No Blackening
Even under direct sunlight exposure, the open frame XE series remains free from blackening defects in temperatures below 230°F / 110°C, providing superior quality for outdoor usage.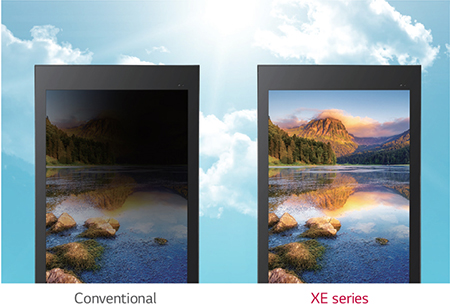 Outdoor Reliability
Secured Protection with IP56 Design
The XE series is sealed with IP56 rated design for reliable operation. It's designed to be not only water resistant but also resistant against the damaging effects of the sun, rain, snow, dust and wind, an essential feature for outdoor application.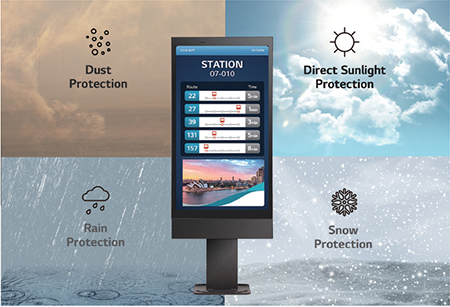 Conformal Coating
The product can be often unavoidably exposed to dust and water during maintenance. Conformal coating on every major circuit board protects against dust, iron powder, humidity, etc.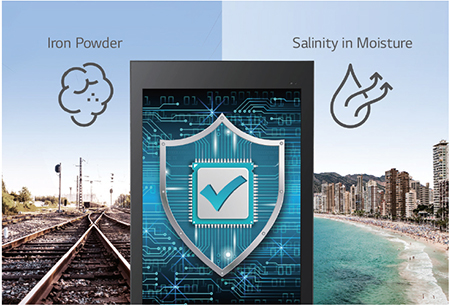 Electrical Safety
An electrical circuit breaker and surge suppressor are integrated inside ensuring absolute protection from overcurrent short circuits, and unwanted voltages. This helps prevent equipment damage and safety hazards in the future.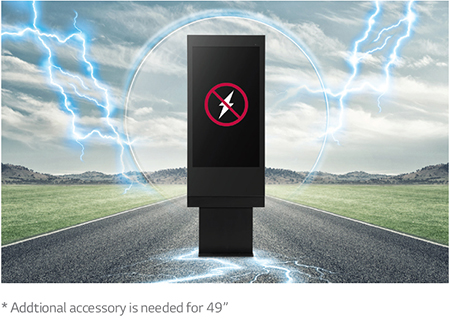 Protective Glass
Tempered and laminated front glass ensures protection, from outdoor extremities allowing minimal damage from external impacts.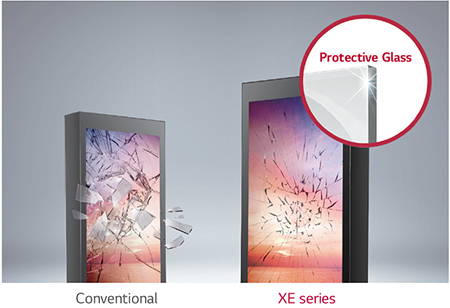 Wide Range of Operating Temperatures
The panel offers superb reliablity under a wide range of operating temperatures, so the XE series requires fewer constraints for outdoor installation.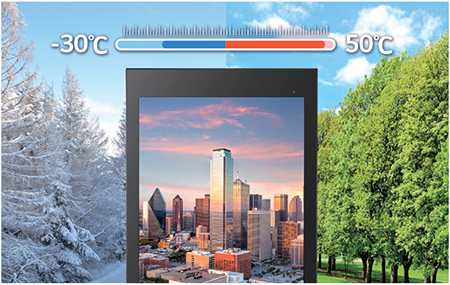 Enhanced Thermal Management
The patented thermal management technology efficiently cools down the heat generated from every part of the product, preventing outside air from entering.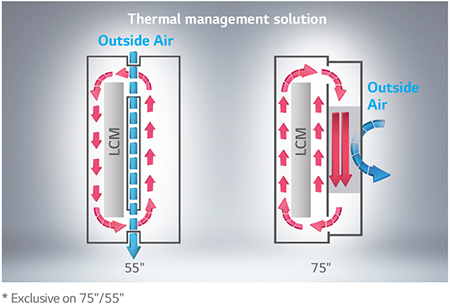 Easy Management
Replaceable Front Glass
In case of outdoor accidents or vandalism, the protective glass of 49XEB3E can be detached from its main body which allows for an instant replacement on site.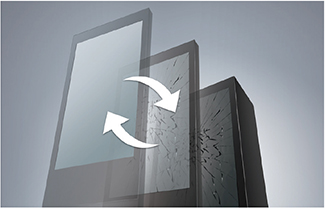 Web Monitoring
The LG Control Manager is an embedded web monitoring program that allows a variety of parameters to be diagnosed in real time such as temperature, pixel status, door status, ambient light, filter*, and gyro sensors. The LG Control Manager can be easily monitored at all times.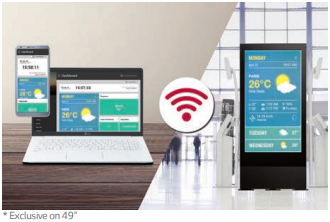 Optional Configuration
Optional stand accessories are provided to allowthe panelto stand freely on the ground and facilitate easy cable management. For the 49XEB3E there is an exclusive stand for 1x3 configuration available to meet various business requirements.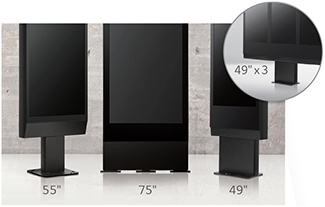 Specifications:
75XE3C Specifications
Panel
Screen Size
75" Class (75.52" Diagonal)
Panel Technology
IPS
Aspect Ratio
16 : 9
Native Resolution
3840 x 2160 (UHD), M+ (WRGB)
Brightness
3,000 cd/m2 (Typ.), 2,400 cd/m2 (Min.)
Viewing Angle (H x V)
178 x 178
Response Time
8 ms (G to G BW, Typ.)
Surface Treatment
Hard Coating(2H), Anti-glare Treatment of the Front Polarizer (Haze 3% (Typ.)), QWP
QWP Polarizer
Yes
Lifetime
50,000 Hours
Operating Hour
24 Hours
Orientation
Portrait Only
Connectivity
Input
HDMI, DP, DVI-D, Audio In, USB 3.0, SD Card
Output
DP, External Speaker Out
External Control
RS232C In/out, RJ45 In
Physical Specification
Front glass
9.5 mm (AR, Tempered & Laminated Glass)
Bezel Color
Black
Bezel Width
110 mm (T), 230 mm (B), 73.3 mm (L/R)
Monitor Dimension (W x H x D)
1,075.6 x 1,991.6 x 218.9 mm / 42.3" x 78.4" x 8.6"
Weight (Head)
180kg / 396.8 lbs
Monitor with Optional Stand Dimensions (W x H x D)
1,075.6 x 2,361.6 x 218.9 mm / 42.3" x 93.0" x 8.6"
Weight (Head+Stand)
247kg / 544.5 lbs
Packing Dimensions (W x H x D)
1,292 x 2,296 x 468 mm / 50.9" x 90.4" x 18.4"
Packed Weight
210kg / 463.0 lbs
Special Features
Special Features
Temperature Sensor, Auto Brightness Sensor, Pixel Sensor, Cooling FAN, ISM Method, DPM Select, Energy Saving, Smart Energy Saving, File Play with USB, Internal Memory 8GB (System 4GB + Available 4GB), USB Cloning, Easy Brightness Control, Wake on LAN, Fail Over, DP Daisy Chain, Control Manager
Environmental Conditions
Operating Temperature
-22°F to 122°F / -30°C to 50°C
Operating Humidity
5% to 100%
Dust / Water Proofing
IP56
Power
Power Supply
100-240V~, 50/60Hz
Power Type
Built-In Power
Power Consumption - Typ. / Max
700 W / 1,000 W
Power Consumption - Smart Enegy Saving
350 W
Standard (Certification)
Safety
UL / cUL / CB
EMC
FCC Class "A" / CE / KCC
Software Compatibility
Content Management Software
SuperSign CMS
Control and Monitoring Software
SuperSign C
Accessory
Basic
Remote Controller, Manual (EIG, ESG), Regulation Book, Phone to RS232C Gender, USB Cable, HDMI Cable
Optional
Enclosure Stand (ST-750X)
Warranty
Warranty
3-Year Limited Warranty (Parts and Labor) | Extended Warranties Available
Pricing Notes:
Pricing and product availability subject to change without notice.
LG Display Products
High Brightness Outdoor Displays
LG 75XE3C-B 75" XE3C Series Outdoor Commercial Display
75" Display, 3840 x 2160 (UHD), 3000 nit, HDMI(2), Display Port, DVI-D, Black, 3-Year Limited Warranty
#75XE3C-B
Get a Quote!